Between A Rock and a Nice Place
Thailand is often discounted by the more intrepid traveler as a destination that has become far too crowded; flooded with uncreative packaged tour holidays and cheap frills. But little do those seeking adventure and an authentic off the beaten path experience know that only an hour from the popular beach town of Krabi, lies a haven for the more sophisticated of adventurers.
Rai Lay is a beach paradise. However, its secrets not only lie in its white sandy beaches and delightfully fresh seafood cuisine but in something far more basic; how to get there!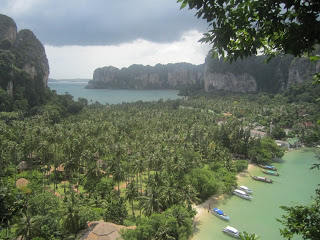 After flying in to the bustling city of Bangkok, travelers need board another flight into Krabi airport. From there they travel by road for three quarters of an hour until the shore. The journey does not end there but one needs to hop onto a long tail motorized wooden boat that takes you all around the coast and over the tip of this beautiful peninsula and then into a bay where a beach lies completely inaccessible by road and only connected to land by a series of intimidating impassable cliffs that tower over the crystal blue water adjacent to it. They effectively turn Rai Lay into its own private island.
And this is only the beginning. Rai Lay's charm not only lies in its location but what you can do once you get there. The granite sheer cliffs that infest and circle the island from every side render it into a rock climber's utopia. Probably one of the world's top sports climbing destinations, the rock puzzles are plenty to choose from and there is something for all levels; from beginner to advanced and some of the best instructors are there to show you how. There is enough there to entertain for a couple of hours or even days.