The Two Poles
Having learned from my experience post Everest, I was already planning my next set of adventures before completing The 7-Summits. I'm currently trying to achieve what is known as The Adventurer or Explorer's Grand Slam. This is the feat of climbing the highest mountain on every continent and skiing to the two poles; the North and South Pole. While Everest has been climbed by c.4000 people, The 7-Summits by c.400 people, the Adventurer Grand Slam has only been achieved by c.40 people in history.
Reducing the number of people having accomplished a challenge by a factor of 10 every time underlines the extent at which I'm trying to push myself. My objective is to one day achieve a world first. My plan is to travel to outer space in 2016. If I'm able to do so then I would be the only human in history who has completed the Explorer's Grand Slam and gone to Space. It gives me goosebumps to be able to push my own limits to this level. And hopefully inspire future explorers from Egypt and the Arab world to push themselves even more and achieve far more than I could ever dream of.
The South Pole
On the 28th of December 2014 I succeed in becoming the first Egyptian to the ski to the South Pole. During 2 weeks in Antarctica and 10 days of skiing, the team covered more than 111Km (60 nautical miles) to reach the pole. Day by day accounts of the trip can be read through a string of blogs in December 2013. The expedition can also be followed via the hashtag #OmarGoesSouth on facebook, twitter and Instagram.  I'm truly grateful and indebted to my sponsor, the Commercial International Bank of Egypt (CIB) for believing in my dream and supporting me along the way.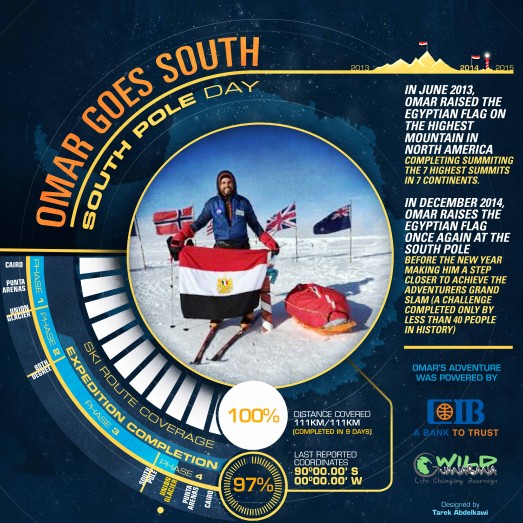 Here's a video, Into White, made by my talented friend and director, Ahmed Koura, recounting my expedition towards the South Pole.
The North Pole
I've successfully reached the North Pole at 5am on the 21st of April thereby completing a 20 year long journey since the day I dreamed of climbing Mount Everest, becoming the first Egyptian and one of 40 people in history to complete the Explorer's Grand Slam which is the challenge of climbing the highest mountain on every continent, the 7 Summits, and skiing to both the South and North pole. Thank you so much for all your amazing support, it really kept me going during the past few days. Thank you to my family and friends for never giving up on me and CIB Bank for making this dream a reality.